SoulBody Goes to COLLEGE and Learned about INCLUSIVITY!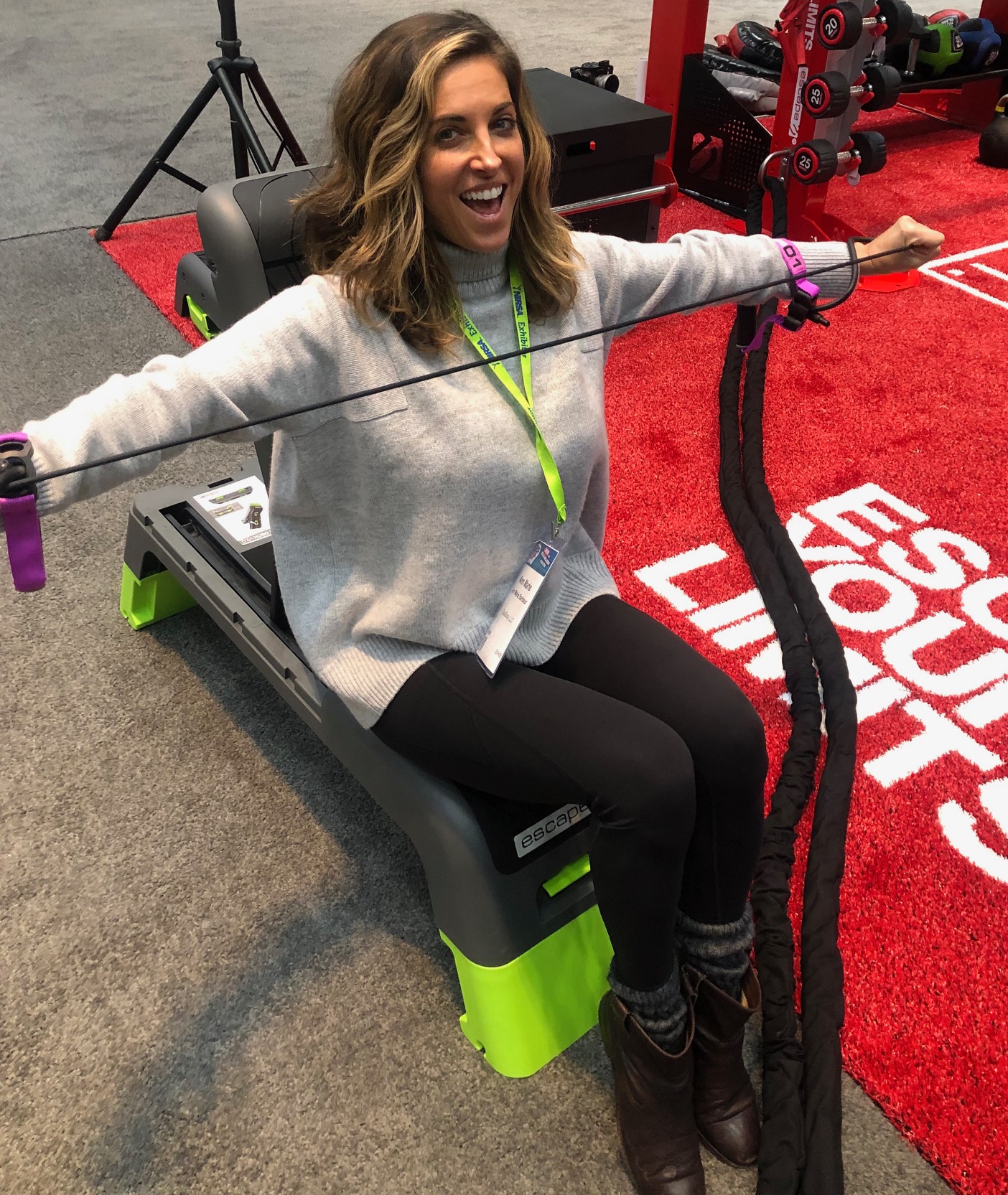 Checking out all of the new props and products! Love Escape Fitness's new STEP!
I was thrilled to represent SoulBody at the NIRSA Annual Conference + Campus Rec & Wellness Expo in Boston this month. NIRSA used to stand for National Intramural-Recreational Sports Association, but now simply considers themselves "Leaders in Collegiate Recreation". SoulBody is now an Associate Member of NIRSA and is proud to be a part of an association that according to NIRSA "supports college and university student's learning and growth by fostering lifelong habits of wellbeing. Leadership, teamwork, dedication, and respect are among the many skills exercised by inclusive competition, fitness, and recreation". These students are our future leaders and instilling strong work and healthy lifestyle ethics are key!
SoulBody's pre-choreographed BARRE + HIIT programs are currently in over 200 + larger clubs and gyms worldwide, but only in a few universities including American University and UC Riverside. After attending this conference and meeting so many young, energetic and forward thinking University Rec Center Group Fitness Directors across the U.S. and Canada, it was amazing to see and hear about the renovations these rec centers are going through and the innovative programming they are now offering to their students. Many came to our booth looking for new, progressive programming and wanted BARRE more than anything else! It was explosive and exciting to be a part of. Nothing like the youth of our nation, and to see their excitement and energy focused on fitness was truly inspiring, I wanted to bottle it!!
We came away with a stack full of business cards from big to small universities and colleges and are excited to re-connect, set up our SoulBody Teacher Trainings to train these future leaders to help us "Inspire Through Movement".
One take-away from the weekend I want to mention was the subject of "Inclusivity". The sessions were centered around this subject and the speakers were soulfully preaching about acceptance, empathy and conversation. The two impassioned key note speakers were Tim Shriver, the chairman of Special Olympics International and according to his bio "has been a part of an amazing team that has created exciting new Special Olympics programs in athlete leadership, cross-cultural research, health, education, and family support. Among them, Special Olympics Healthy Athletes® has become the world's largest public health examination and education program for people with intellectual disabilities, and Special Olympics Unified Schools has become a powerful program promoting school-based social inclusion and unified leadership".
Ash Beckham was the closing speaker. She was the key note at the first-ever LEGTQ Conference at Harvard University and became a viral sensation with her TEDx talk "Coming Out of Your Closet" or her Boulder Ignite speech, "I am SO GAY". These speeches were inspiring and heartfelt on how to embrace diversity and create a sense of belonging and inclusion. What an important message to this specific group of young students as well as the professional staff and leaders of these Universities. It truly was awe-inspiring, full of hope and went way beyond the workout and sports field. Everyone felt the message and we at SoulBody are leaning in and ready to make great strides to build broader relationships and help create greater diversity with inclusivity!
In Good Health
Ann Marie