Next Stop NYC for the Boutique Fitness Summit!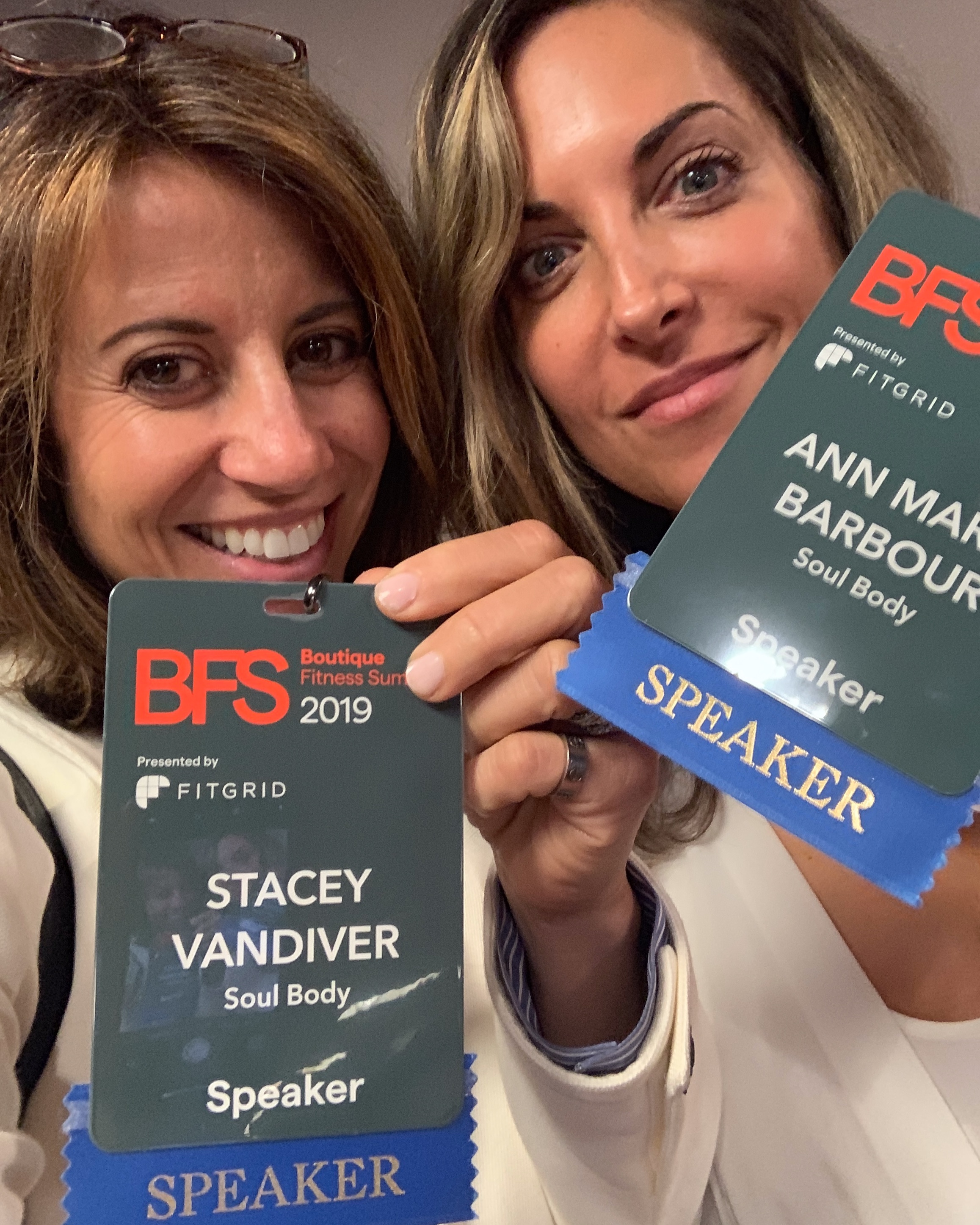 Co-Founders Stacey Vandiver & Ann Marie Barbour pitching to Investors at BFS Ventures!
It's always an exhilarating adventure when visiting NYC. The energy and talent within the Boutique Fitness Summit matched the momentum and pace of the New York City Streets, where the "boutique boom" is in FULL SWING! Our hats off to co-founders Ntiedo (NT) Etuk and Julian Barnes for a job well done from A-Z!
Similar to our visit to SUCCEED, The Boutique Fitness Summit brought in some BIG NAMES in fitness for one-day of panel discussions and sessions. Such names as Annabeth Eschbach, founder of Exhale, Jennifer Maanavi, co-founder of Physique 57, Amanda Freeman, founder of SLT, and Ruth Zuckerman, co-founder of SoulCycle and Flywheel. The list goes on but many of the best of the best in boutique represented!
We at SoulBody were invited to come pitch at BFS Ventures, their version of Shark Tank. Well prepared with our pitch, Stacey and I presented to an esteemed panel of investors with confidence. We already have great traction and established success with current programming and offerings, but there's more to come and we need fuel to propel it. It was a great experience and we look forward to our fund-raising journey ahead. We want to congratulate the winners of BFS Ventures Austin Cohen and his team from FlexIt, they are like the "Uber of Fitness" where you only pay for the hours you use at participating gyms…check it out!
One of our favorite session was given by one of our SoulBody Advisors, Emma Barry, former director at Equinox & Les Mills (observer and catalyst). The title to her session was "Build that Badass Boutique" and the room was packed by the next SoulCycle hopefuls. It was all about dialing up the emotional experience in the studio. We can check off all the boxes such as location, amenities, service, class availability, but the ONE THING that will set us apart is the authentic experience we offer our members. The smallest gesture or offering could make all the difference. She also had us fill out a "Boutique Barometer" form. A couple of the questions Emma urged us to think about (which we should all take the time to answer was) 1. How much do your members adore you? 2. How engaged are your members? 3. How baller is your programming? 4. How often do you deliver the results your promise? How rockstar are your instructors? How differentiated are you from others? Emma also recommended a few books to help us all on our member experience journey: Find Your Why, Mapping Experiences, The Ten Principles Behind Great Customer Experiences, The Experience Economy and The Effortless Experience.
The Expo was also packed with innovation, especially in tech, and a lot geared for us instructors (whoo hoo) such as BFS's NT Etuk's FitGrid and the newest class music app Instructrr, (a group fitness savior), an all in one class design and music player + timer app.
We always come away from these conferences and summits so inspired, not only by the innovation but the motivation and passion from everyone involved within the vital world of fitness! Everyone's true aim is to make the planet a happier, healthier place:)
Best in Health and Fitness,
Ann Marie